"I am not an artist. I am a man who paints."
So said the man who produced around 1,000 paintings and over 8,000 drawing during his lifetime. L.S.Lowry (Laurence Stephen in case you were wondering) has long been known for his industrial pictures of Manchester, where he was born and grew up, and specifically the matchstick people who inhabit them.
I have never really been a great fan of his work, possibly because of my own preference for realism or the extreme opposite surrealism. Lowry always struck me as just a little dull at the side of the vivid and imaginative works of so many other artists, such as Dali for example.
Then again, perhaps I was simply put off by the association of his art with the 1978 hit single "Matchstalk Men and Matchstalk Cats and Dogs" by Brian and Michael. Now, there was a song that seemed to spend an interminable amount of time in the Charts way back then, though strangely the reality is it actually only spent 3 weeks at no.1! Thank goodness they were a one hit wonder!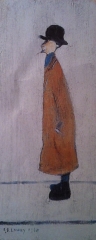 With the approach of his 125th birthday I thought it would be interesting to revisit my apparent negativity/disinterest. Among the pictures I could track down on line l was taken with this rather strange picture "Gentleman looking at Something (1960). I say "strange" because there is something quite unusual about a picture where the primary source of interest doesn't appear in the picture…I want to know and can therefore only imagine what the "something" was. Perhaps he was watching an approaching tram, given that he is stood between it's lines?
Reading a little further I am reminded by the Winsor and Newton site that Lowry used a very limited colour palette throughout all his paintings:
Ivory Black
Vermilion
Prussian Blue 
Yellow Ochre
Flake White

As I start to look more closely at the range of colour he achieves in his paintings I realise just how complicated things have become these days, with a vast array of colour tubes to select from, and very little idea about how some of them have been created! The subtlety and depth of colour achieved with this limited palette really is quite tremendous.
So, I can't say I feel more excited by the art, but I am persuaded that there is something solid about the approach and something I might learn from that. Indeed, I already have thoughts in mind about painting next with a smaller range of colour on my palette.
In the meantime though – I'll accept it's art, think about arranging a trip to the Lowry in Salford, and wish Mr Lowry a happy 125th birthday with a small homage: "Lady looking at Something else." I will leave you to determine what that something is…..