These contemporary family trees, available from KL Art tell the unique story of your family; each family member is represented as an element in the painting, to create a visual representation of your family tree. Several generations can be included and for a small charge additional family members can be added as they arrive!
Here's an example, presented to parents as a gift, representing 4 generations of this family, including:
Parents
4 daughters and 1 son
4 granddaughters and 9 grandsons
9 great grandchildren (7 boys and 2 girls)

Here's the explanation: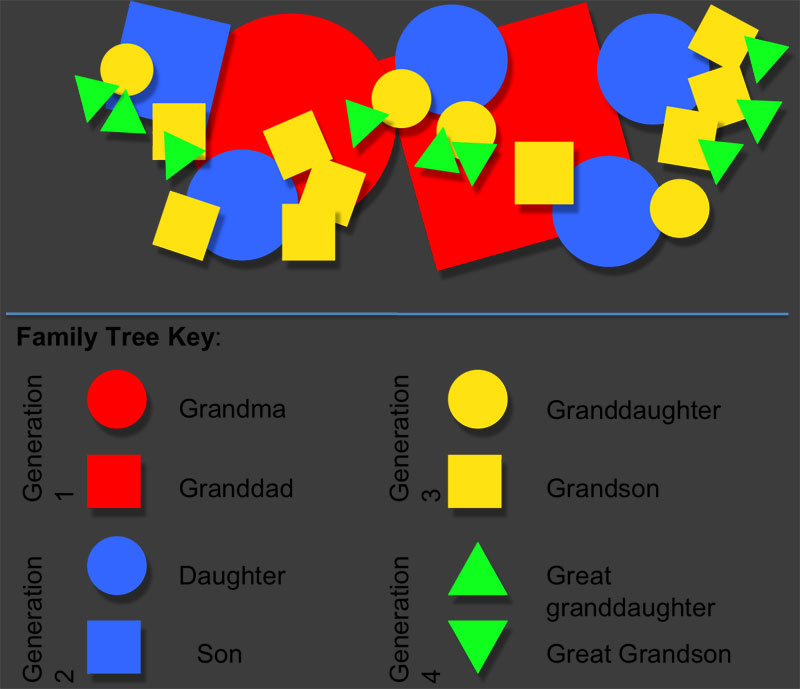 These beautiful gifts are painted in acrylic on canvas and finished with gold leaf.
Every painting is a most attractive piece of art in itself, whilst each has a special significance for the recipient(s).
"Every visitor has admired my painting…I love to see their faces when I tell them it's my family…when I explain it they are all amazed".

Mrs O'Rourke , South Yorkshire
Prints can be supplied from the original so you can share similar or smaller versions with the whole family.
Prefer your family trees a little different?
This "family tree" really is a tree!
This family wanted something that would fit with a recent change in their home decor.
After an informal chat it became clear the family has a zest for life and a shared interest in outdoor sports, with lots of notable shared events that mark their journey through life.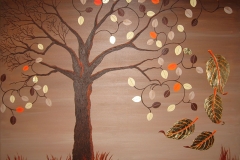 This painting represents the growth of the family, their seasonal journey and the vitality of life.
Each of the family members is denoted by a large golden leaf, falling close to the tree as it prepares for the next surge of seasonal renewal.
If you would like to capture the details of your own family group in a visual format please Contact me to arrange an initial chat.
Nervous? Not sure what you are after? Uncertain about how to commission your own art work?
Don't worry – I've done this before so I can help you to work through some ideas. You might find it helpful to check out the advice on my Commission KL Art page for an idea of how the process works.
Pricing
I really can't match the prices you will find for mass-produced prints on the high street, but I can offer you a fair price for your individual artwork, based on the size and costs of the materials used and the work I put into it. To guarantee this I calculate the costs of every commission individually to reflect your request.
So you're not completely in the dark please see my KL Art Commissions Price Guide for a general idea (opens in a new window).