So, it's been a while, but I finally found my way back to the Blogosphere, following a busy 6 months, tied up with some exciting new projects, including this private commission: Regents Parkesque. My largest painting and certainly my biggest challenge to date: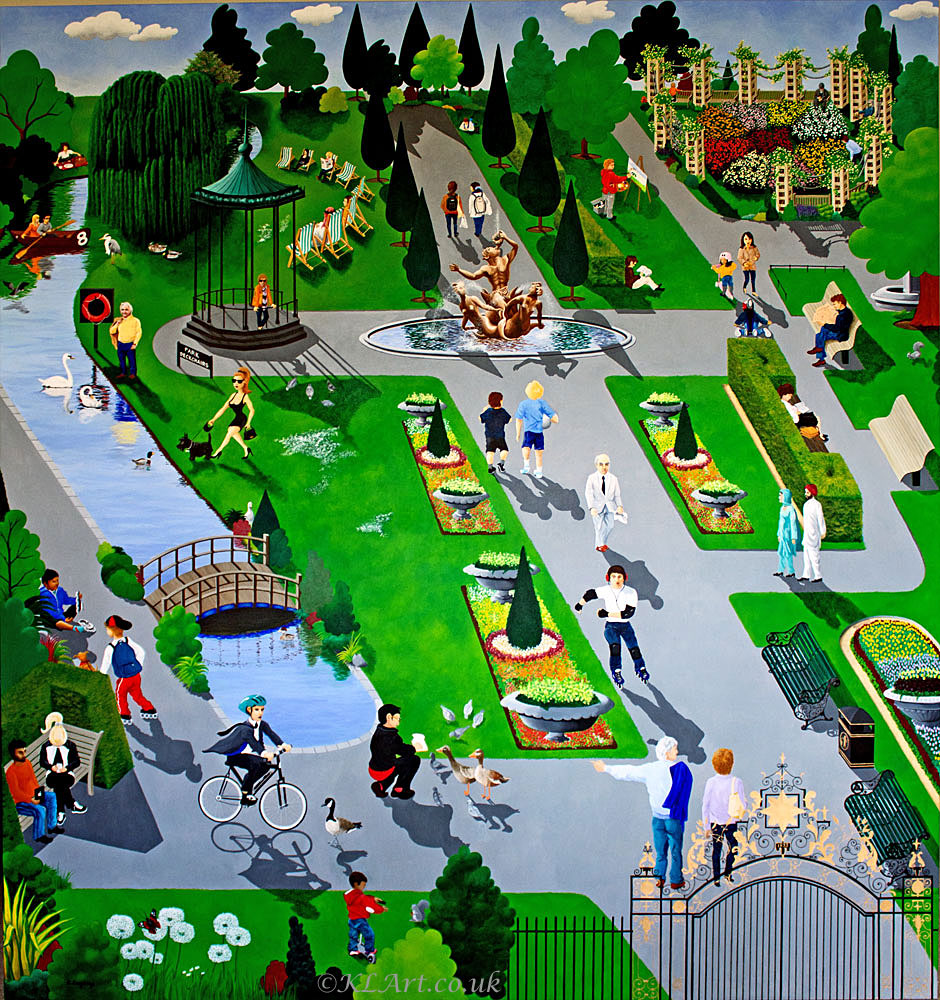 Measuring 1.6 X 1.5 m this was both a beast and a joy to paint in almost equal measure, and I'll confess I rather miss it now it's gone!
The brief:
something in a cartoon type style, that includes our favourite parts of the park we like to visit when we're in London…and an essence of life today
The picture was developed from the combined contents of 99 photographs and took well over 1000 hours to complete (with a short break part way through to rest a weary, damaged shoulder).
Painted in acrylics and gold leaf, every area on the canvas has a minimum of 3 layers of paint and up to 8 or 9 layers in some areas, to develop texture and depth (these layers are known as glazes in the art world).
The picture features some of the most popular landmarks of this park, one or two of which I can very vaguely remember from rare visits there as a child, en route to the park zoo, including:
Queen Marys rose garden
Triton Fountain
Bandstand and park deckchairs
Boating lake
Glorious gilded gates leading to the gardens
I'm certain I never imagined at the time that I would one day paint these scenes, standing on steps to reach the top of a canvas! Nor did I ever imagine that the painting would receive more visitors than me over the last few months, from friends and relatives keen to encourage, question and more importantly admire the details as they emerged…Oh, and check how I was too!
I have resolved to visit the park again one day, during the warmer months of course, when I'm down in London some time, and perhaps seek out the memories of time spent there as a little girl. In the meantime, I'm pleased to say I have another satisfied customer who was
thoroughly enjoying looking at the painting!
My challenge to him was to count the number of characters who appear in the finished picture – if you want to give it a go (including the characters in the Triton Fountain), you might just find some of the close up snapshots on my KL Art Facebook page helpful – Good Luck!
If you fancy something similar or on a much smaller scale my order book is open if you'd like to Commission me.