Well, it was great to be back at Wentworth Woodhouse, 29 years after I left there as a student, if only in the outside area of the stable block!
It proved to be an interesting and costly weekend – only five minutes into setting up our gazebo, and just as we were adding weights to the legs, a freak gust of wind picked it up and slammed it back down, at the cost of only one leg. As you might imagine one leg becomes quite important to the stability of a four cornered gazebo – and to my own stability as it turns out…my response was rather impolite and subsequently just a little emotional. Oh and of course I now owe my baby brother the cost of a new gazebo to replace the loan one!
Oh well, fortunately we were able to negotiate the use of some shared space elsewhere, provided we helped to erect what must have been a 25 ft gazebo, which my bro kindly did on my behalf while I cleared up the mess we had already created elsewhere.
Interesting fact: 25ft gazebos also fly really well and to a height of approximately 6ft from the ground when approached by large gusts of wind travelling in the right direction!
Plans for layout had to be adjusted on the hoof but we looked pretty smart when we set up for trading on day 1 if I do say so myself (some others said so too).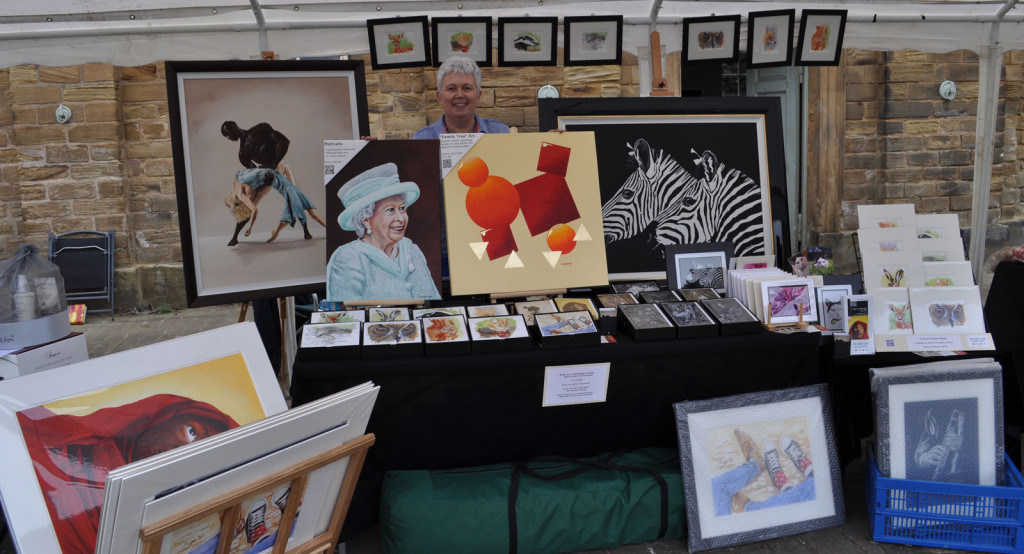 Day 1 was slightly overcast but brought a few expected friends, including visitors from the other side of the Pennines (thanks for visiting Max), whilst Sunday saw the sunshine a very noticeable shift in spirits and more visits from friends old and new – fortunately this is the kind of weather that brings visitors to Wentworth Woodhouse for a Sunday afternoon walk.
It was great to spend a couple of days chatting to other stallholders, making new friends friends from complete strangers and of course picking up some sales and new business, not to mention a couple of very special leads. It was also great to receive some really positive feedback across the whole range of items on the stall (and some disappointment that a couple of the larger items were for demonstration purposes and not for sale).
I also received a good deal of feedback about the portrait of the Queen – on the stand only to illustrate my services for portraiture, but well timed to coincide with the furore surrounding the Dan Llywelyn Hall "Spitting Image" portrait revealed only a week earlier. This certainly generated plenty of conversation including shared stories with service men who had proudly met the Queen in years past, some who had turned out to wave flags during royal visits and others who despised all that monarchy stood for. By far the most amusing response by a lady who refused to stop at all:
Huh! Who'd want to buy that to hang on their wall!
– Who was it who said you can't please all of the people all of the time?!
…that was a rhetorical question of course, the saying is generally attributed to Abraham Lincoln, but was adapted by him from a quote by the English poet and monk John Lydgate 
Would I do it again?
The exercise certainly kicked me into bringing forward some new ideas and paintings I'd been considering for a while, so I certainly increased my productivity in the run up to the event. That also means I now have a new body of work to take out to local outlets/galleries as planned, so the fair proved to be a good incentive for personal discipline!
On the down side it's taken me over a week to clean the dust from my stock, where it clung for dear life to the static charged cellophane wrap on my prints and cards and I could swear my little family of wildlife animals are still in shock from their short flight whilst attached to the large gazebo – they haven't said a word since we got home anyway!
All in all I met some lovely people and shared some really interesting stories – you wouldn't believe how many people said they used to paint or draw but gave it up because they didn't think they could do it very well, or because life simply got in the way. Some even left determined to go and drag their tools back out of the cupboard and give it another go, great news!
I'm not sure if I'll do it again in this (dusty) environment at the moment, but I recognise the decision to be here was based on nostalgia and it was great to be back temporarily and seeing some progress at least in the attempts to revitalise this most wonderful estate.
From a business perspective I am at least considering a couple of indoor events and events on grass in the coming months and right now I am very excited about the myriad of other opportunities out there for me. I am equally excited to be on the verge of starting up some tuition with a young person right at the start of their creative journey and really look forward to seeing where that big adventure takes us!