Previously in The Purple Mamba…
Fridges got raided
Buns went missing
Dulse got drafted in and placed on hold
More fridges got raided
John out-Bellamied David
Santa ate Christmas
Professional bun-eaters were left distraught
Les Hontas interpreted evidence to identify The Purple Mamba…..
Technology Gnomes slaved
Pixelating Pixies collaborated
All because of the crime of the century – theft of food from starving civil servants!
So, without further ado, here's the final edition (Director's cut) of the aged Purple Mamba cartoon.
Please be warned: Content may not meet today's exacting PC standards and not all underpants worn are Calvin Klein's!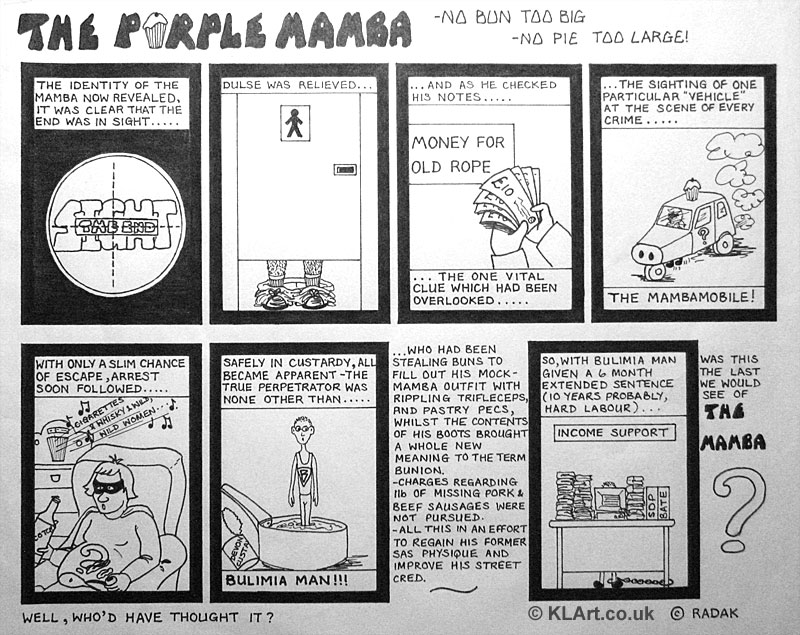 Oops – I missed: Part 1 | Parts 2 & 3 | Parts 4 & 5 | I'm just glad it's all over
If you've made it this far, wow and congratulations on your stamina! Thanks for sharing a little stroll down memory lane with me and a couple of old friends – I hope you were able to share a smile with us along the way.
Remembering where this self-indulgence all started last week (or 17 years ago to be more accurate) I'll finish by wishing a fond farewell to the friends who willingly appeared in these cartoons and who are no longer with us – gone but by no means forgotten!!