OK, so this blog post has already captured the imagination of some for entirely the wrong reasons. (Just in case you were wondering or hoping for something else…..this post won't tell you how to grow, source or buy top grade marijuana, but let's go with it anyway eh)!
I met up with some old work pals earlier this week to bid another old friend, Liz, farewell. These were not the best of circumstances, but fate brought us back together temporarily for just a few hours…..a disparate group of people who had once been united by the joint causes of our work place. We had all "grown up" together through our formative years and now looked a little older, far more responsible and yet strangely much the same people. Despite the years that had passed since we had last seen each other the shared laughter we had enjoyed amid the challenges of the job was still there as we raised a tea cup to absent friends. And so began the reminiscences…
Memories of Liz and happier times were sparked by old photos leading to revisited laughter about the good old days and…The Purple Mamba.
As I said, nothing at all to do with cannabis, the Purple Mamba was the collective brain child of RADAK, a couple of cheekie chaps (they know who they are) and me! He was our very own office cartoon character (created in our own time of course). Mamba allowed us to comment on the daft things that happened in our world of work, or more accurately the office fridge, which had been prone to a series of mysterious "smash and grub" raids that seems to befall most office spaces.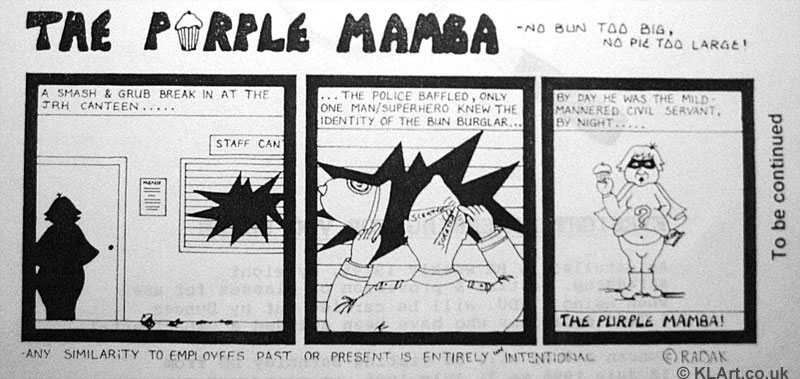 Looking at the old cartoons now (this first one celebrated a 17th birthday back in July) they're not entirely PC, but they do take me and hopefully some of you readers out there back to happier times and Liz even makes a guest appearance in one of them (with her knowledge and permission at the time of course)!
It's been a funny old week, and one I'm glad is over, but isn't it great that laughter can connect old friends and the images we create can help to cement those memories. So here's a toast to old and absent friends and though the people in these cartoons will be unrecognisable to some of you I feel sure the sentiment will make sense for most!
For those of you who recognise this or have simply enjoyed the insight into the life of civil servants, don't forget to pop back I will post the remaining cartoons over the coming days as I uncover and digitise them.
– I know some of my old friends just wouldn't use Facebook to follow these but other reminiscences will appear on my KLArt Facebook page please remember to LIKE if you like once you arrive there.
Show me : Part 2 & 3 | Part 4 & 5 |