Queen Portrait is an Original Acrylic Painting on canvas.
This elegant original acrylic painting, Queen Portrait, was created to celebrate the 2012 Diamond Jubilee of HRH Queen Elizabeth II.
The full story behind the painting is told in my blog post "How to Paint the Queen"
The portrait is supplied unframed on a stretched canvas. It has painted edges and is supplied complete with fixings and cord so it's ready to hang just as soon as you pick the right spot for her. Alternatively the picture can be framed to suit your personal taste.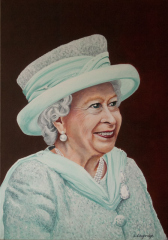 (Click Image to Enlarge)
Please note: I can arrange for the picture to be framed before it's delivered. This would be treated in the same way as an oil painting and framed without glass, but it will cost a bit more to cover the frame, mount and extra postage costs – please contact me if you would prefer this option.
Picture size: 16.5 X 23.5 in | 42 X 60 cm.
Canvas depth:  ¾ in | 1.7 cm
Queen Portrait has been finished with a matt varnish to help you keep it clean. A quick and respectful tickle with a feather duster once in a while should be more than enough to keep HRH smiling. She would also prefer to live somewhere that's not too hot or sunny so she can remain cool, calm and regal – it reduces the build up of dust and prevents any softening of the paint too!
Fine art prints are also available in different formats and sizes from my Fineart America site: Queen Elizabeth ll 2012 
Description

Queen Portrait | Acrylic Painting