Vesuvio Glass Plate is an Original Fused glass plate.
This colourful, vibrant "painting in glass" is created with rich red and amber colour splashes, Inspired by the fiery heat of molten lava flowing from an erupting volcano. Meanwhile, Black flecks and silvery white highlights play atop the lava flow, representing cooler rock and the clouds of ash that accompany such an eruption.
Vesuvio glass plate has been created using double layered 2mm standard float glass. These layers encase coloured glass frits and metallic mica powder, which have been fused into a single plate by firing in a kiln. The resulting plate has been slump fired in a mould to create a recessed base. The nature of the materials used and the processes applied mean this plate has truly unique characteristics that cannot be exactly replicated, however a similar item can be created if you would prefer a different size or colour combination.
This plate has been designed to be decorative and would be at home in any location on a wall hanger or plate stand (or as a pot pourri or fancies dish if you prefer). When it is displayed backlit, however, the true beauty of the colours and the detail of the "painting" truly come to life.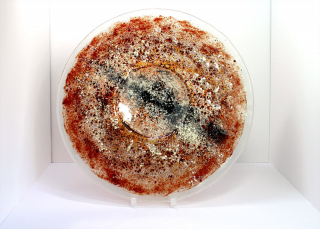 (Click Image to Enlarge)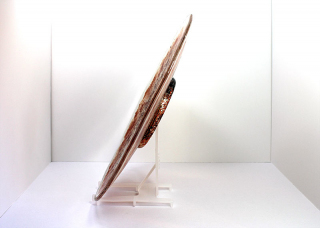 Please note: Postage and Packing will be added at the point of sale, based on your location and the number of items purchased.
Plate size: 11¼ in x ⅛ in | 285 X 4 mm
The plate is made using ordinary glass which makes it perfectly safe for use as a normal plate. The plate can be washed in hot soapy water to keep it sparkling clean, but I can't guarantee it is dishwasher safe – do that at your own risk.
The nature of glass also makes it perfectly suitable for display in full sunlight without any risk of deterioration or premature ageing!
Description

Vesuvio Glass Plate