Two Female Nudes seated – Charcoal and Pastel Portrait on Ingres Pastel Paper.
This beautiful portrait of two nude females, is drawn as a study of two life models bathed in bright Autumn sunlight on a warm afternoon in October.
The story behind the picture is told in my blog post "Life Drawing Adventures"
The picture is supplied unframed and unmounted so you can make your own decisions about how you want to display the picture, depending on where you want to put it. This also means I can keep costs down to you.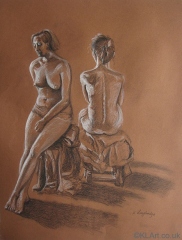 (Click Image to Enlarge)
Please note: I can arrange for the picture to be framed before it's delivered, but it will cost a bit more to cover the frame, mount and extra postage costs – please contact me if you would prefer this option.
Picture size: 19.5 X 25.5 in | 50 X 65 cm.
Two Female Nudes seated has been treated with a fixative to prevent smudging, but as a pastel painting, should be framed under glass to keep them in tip top condition. Once framed these ladies will be happiest living in a new home where it's not too bright and sunny to prevent any fading!
Description

Two Female Nudes Seated