Tigress 2 is an Original Acrylic Painting on velvet.
This beautiful original painting of a reclining female nude , Tigress 2, uses stretched velvet as a support. This provides an unusually patterned and textured background against which the painted detail stands out brightly. The painting is supplied wrapped on a box framed canvas with no further protection from a frame or glass, to reveal the natural lustre of the fabric. These can be added later if you wish.
The picture is also supplied complete with fixings and cord so it's ready to hang just as soon as you pick the right spot.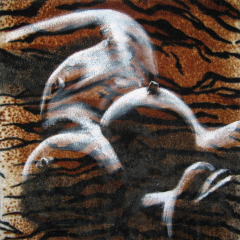 (Click Image to Enlarge)
Please note: Postage and Packing will be added at the point of sale, based on your location and the number of items purchased.
Picture size: 12 x 12 ins | 30.5 X 30.5 cm
Tigress 2 is painted with chroma colour acrylic paint on velvet which does not need varnish to prolong it's lifespan. The nature of the fabric means it will need to be wiped occasionally to remove any dust that might gather (a slightly wetted finger is particularly good for this, or a lint roller). Tigress would prefer to live somewhere that's not too hot or sunny because she doesn't want to overheat and become irritable. This will also ensure she doesn't fade!
Description

Tigress 2 | Acrylic on Fabric