Three's a Crowd is an Original  Watercolour Painting
This colourful and amusing original watercolour painting, Three's a Crowd, captures the atmosphere of teenagers on a beachside date.
Painted on Langton 140 lb Not Watercolour Paper, it is supplied in a classic flat black frame with a double off-white mount, selected to complement the picture. The framed picture is also supplied complete with fixings and cord so it's ready to hang just as soon as you pick the right spot.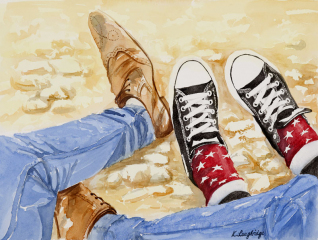 (Click Image to Enlarge)
Please note: Postage and Packing will be added at the point of sale, based on your location and the number of items purchased.
Picture size: 20 X 16 in | 50.5 X 40.5 cm.
Framed size: 22.5 X 19 in | 57 X 48 cm
Three's a Crowd is protected by glass to help keep the painting clean and free from dust. A quick tickle with a feather duster once in a while should be more than enough to keep these two smiling. They would also prefer to live somewhere that's not too hot or sunny because they prefer to keep cool while dating – it reduces the build up of dust and helps to prevent fading or discolouration.
More images: (Click Image to Enlarge)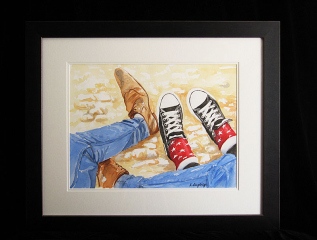 Description

Three's a Crowd | Watercolour