Pit Man is an Original Pencil Portrait on Paper.
This portrait of an unknown pit man, is drawn from a series of reference photographs and remembered times. The portrait is supplied in a classic flat black wooden frame, with a single black mount to complement the portrait.
The frame also comes complete with all the fixings and cord attached, so he's ready to hang just as soon as you find the right spot for him.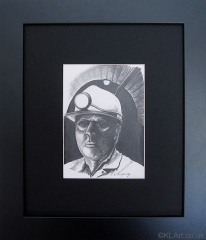 (Click Image to Enlarge)
Please note: Postage and Packing will be added at the point of sale, based on your location and the number of items purchased.
Picture size: 5 X 7 in | 12.5 X 17.5 cm
Framed size: 12.5 X 14.5 ins | 32 X 37 cm
Pit Man has been treated with a fixative and is protected by a glass frame to provide the healthiest environment for the picture. He only needs a tickle with a feather duster once in a while to help him maintain his health and an occasional wipe with a damp cloth will keep him sparkly clean.
The picture is fully protected by the glass but after a day underground he would  prefer to stay out of the brightness of direct sunlight so he isn't dazzled, and to prevent fading!
Description

Pit Man | Graphite