Owl Glass Panel
This beautiful, vibrant Owl glass panel is a "painting in glass" reproduction of the charming award winning original watercolour. The painting is created as a kiln-fired glass painting that captures the steely gaze and natural beauty of the majestic and powerful European Eagle Owl.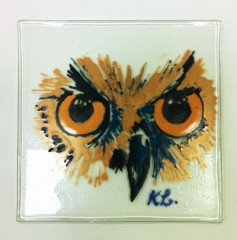 (Click Image to Enlarge)
Glass panels
This glass panel is 10 x 10 cm and has been relief mounted and framed in a deep box frame to allow natural light to pass through the glass and show it at it's best.
Finished size: 20 x 20 cm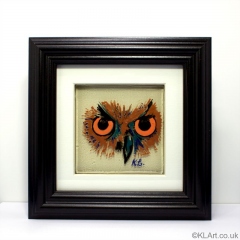 (Click Image to Enlarge)
Please note: Postage and Packing will be added at the point of sale, based on your location and the number of items purchased.
The panel is made using ordinary glass which means it behaves in the same way as any other glass in your house. It is perfectly safe while your treat it with the same care as your household glass.
The nature of glass and kiln firing also means the colours are lightfast so Owl is perfectly suitable for display in full sunlight without any risk of deterioration or premature ageing!
Not your size? Contact me to commission another one just for you!
Description

Owl Glass panel
Sorry, this one already has a new home (SOLD)