Foxy is an Original Watercolour Painting
This charming original watercolour painting, Foxy, captures the charm and beauty of the resourceful and clever red fox.
Painted on Saunders Waterford 140lb HP Watercolour paper, it is supplied in an off-white double mount and flat black frame, selected to complement the the characteristics of the picture. The framed picture is shipped with appropriate protection to prevent damage to the glass and/or frame and insurance cover, just in case of a mishap.
(Click Images to Enlarge) 
Image: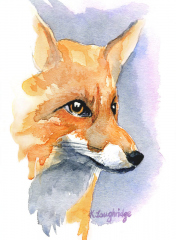 Image size: 4 X 6 in | 10.5 X 15 cm
Framed Original size: 10 X 12 in | 25.5 X 30.5 cm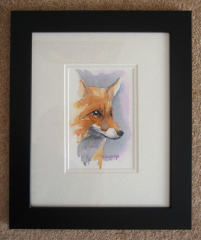 Please contact me if you would like any more information.
And finally…
Watercolours should be framed under glass to keep them in tip top condition and always with a mount to prevent the picture touching the glass. Foxes are usually nocturnal animals so this one would be happiest living in a new home where it's not too hot and certainly out of direct sunlight to keep his coat looking bright and glossy – paintings on paper can be prone to fading.
This image is also available from the KLArt Shop as a Fine Art Print and as a Fine Art Card.
Description

Foxy | Watercolour
Sorry, this one already has a new home (SOLD)