Cello Fine Art Prints – available in various sizes
These Cello Fine Art Prints are reproduced from the evocative pastel painted original "Study in the Bass Clef – Cello" to give its full title. The portrait captures this orchestral instrument being played pizzicato i.e. without the bow, strings being plucked to produce it's harmonious tones. The cello is often referred to as the instrument that produces a sound that most closely resembles that of the male human voice. This image captures instrument and player, working in unison to create that rich and mellow sound.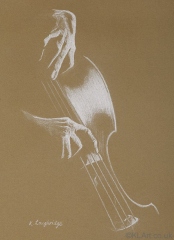 (Click Image to Enlarge)
Fine Art Prints
The original is available but if you would prefer a more affordable option, you have the chance to own this image as an open edition fine art print.
 (Click Image to Enlarge)
These high quality giclee prints are available in a variety of sizes and formats, so please check out my guide:
Fine Art Giclee Prints – Price Guide (PDF – opens in a new window)
I've only included the most popular sizes for this print in the KL Art Shop, so please contact me for a personal quote if you want a larger or smaller size or a format I've left out of the shop.
About KL Art Prints
All KL Art prints are produced using acid-free fine art paper or canvas and archival inks to ensure they will last a life time without fading or loss of colour.
Mounts, where supplied, are also of archival quality and are supplied with a backing board and cellophane wrap to protect them on their journey.
Please note:
Each print is made to order, especially for you. That means it could be up to 10 days before they can be shipped – if you have a deadline, please contact me and I will happily try to meet it.
Unmounted prints will be shipped in a cardboard tube, ready for you to mount and frame it yourself. If it's a little bit curly when it arrives just let it relax for a few hours or overnight laid flat
I can supply framed prints on request – please contact me if you would like a quote, but remember the lovely lady at the Post Office will ask me to pay a little bit more for postage because of the extra weight
DID YOU KNOW?
UK customers – you will usually find best prices if you buy direct here or by contacting me 
Additional formats, including metal and acrylic prints, and XL sizes are available from:
Karen Loughridge Fine Art America
Non UK customers – may find significant savings in shipping costs on the Fine Art America site.
Description

Cello | Fine Art Prints