Cello Fine Art Cards
These fine art cards have all the charm of the original pastel painting, Study in the Bass Clef – Cello. This evocative portrait, "Cello" captures this orchestral instrument being played pizzicato i.e. without the bow, strings being plucked to produce it's harmonious tones. The cello is often referred to as the instrument that produces a sound that most closely resembles that of the male human voice. This image captures instrument and player, working in unison to create that rich and mellow sound.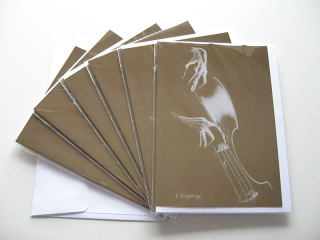 These Art cards are 5" X 7" in size and printed on quality heavy weight 110lb paper stock, finished with a semi-gloss UV protection layer. This makes them suitable for inexpensive mounting and framing should you wish.
Each card has a matte white finish inside so they are easy to write on and personalise with your own message.
All cards are supplied with a brilliant white envelope for mailing and shipped in a cellophane bag to keep them in tip-top condition during their journey.
Prices:
I can offer a further discount for orders of 13 cards or more – please contact me if you would like further details
DID YOU KNOW?
If you like the image and want to order cards in your own format, with a personalised message inside, you can order directly from:
Karen Loughridge Fine Art America site
– Please note that costs to you may be higher and international shipping costs will be added to your order at the checkout.
FREE SHIPPING: UK ONLY
If you live outside the UK additional postage charges will be notified by email.
Description

Cello | Cards