Butterfly Wings is an Original Encaustic (Wax) Painting on card.
This vibrant original beeswax painting, resembling a collection of colourful butterfly wings, is a true one-off – the nature of wax makes it impossible to paint two pictures that look exactly the same!
Butterfly Wings is supplied with a black and white double mount to complement the picture and in a protective cellophane "jacket". The picture is supplied with mount only so it's  ready for you to pop into your own choice of frame. This means I can keep costs down to you (I don't charge delivery costs on these paintings within the UK).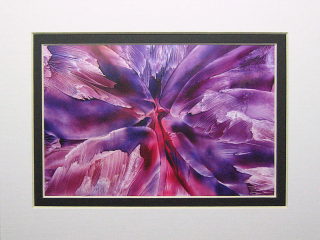 (Click Image to Enlarge)
Please note: I can arrange for the picture to be framed before it's delivered, but it will cost a bit more to cover the frame and extra postage costs – please contact me if you would prefer this option.
Picture size: 4 X 6 in | 10.5 X 15 cm.
With Mount: 6 X 8 in | 15 X 20.5 cm
Beeswax is a bit tricky to clean, so it should be framed under glass to keep it in tip top condition. Because beeswax is quite "melty" once it gets to a temperature around 62 °C (that's 144 °F) these wings will be happiest living in a new home where it's not too hot (not above or too close to radiators). It's probably a good idea to keep them out of the sun too or they could fly clean away!
(If you live outside the UK additional postage charges will be notified by email).
Description

Butterfly Wings | Encaustic Painting
Sorry, this one already has a new home (SOLD)