Blue Sax is an Original Pastel Portrait on Pastel Paper.
This atmospheric portrait, "Blue Sax", evokes the soulful, mellow timbre of this woodwind instrument in the hands of his master. The image captures both the gleam of the polished sax and the isolated concentration of master of this instrument as they work in harmonious unison for their performance.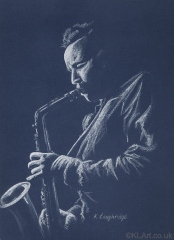 (Click Image to Enlarge)
The picture is supplied framed in a classic flat black frame with a double off-white flecked mount, selected to complement the picture. The framed picture is also supplied complete with fixings and cord so it's ready to hang just as soon as you have picked the right spot.
Picture size: 16 X 12 ins | 40.5 X 30.5 cm.
Framed size: 18 X 22 in | 45.7 X 55.8 cm.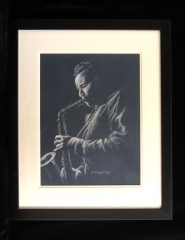 (Click Image to Enlarge)
Blue Sax has been treated with a fixative to prevent smudging, but as a pastel painting, is framed under glass to keep him in tip top condition for future performances. This fellow  will be happiest living in a new home where it's not too bright and sunny to prevent any fading!
Description

Blue Sax | Pastel Painting